Heartland offers credit card Processing in-store and online utilizing the most up-to-date technologies, including Europay-MasterCard-Visa (EMV a.k.a Chip Technology), Near Field Communication (NFC), eCommerce, Cloud, and eBilling software. Our solutions are suitable for all industries, including the healthcare, medical, legal and educational fields. We provide the most secure payment processing services, giving you and your business the peace of mind knowing that your customer's Visa, MasterCard, Discover & American Express information is in good hands. We integrate with Revel, ShopKeep and Quickbooks seamlessly as well as every other major POS.
Through a unique technology called  "Out-of-Scope," our systems make your customers information invisible to electronic threats. All of your customer's personal information is now encrypted safely stored by Heartland. If the rare event that your systems are attacked, your data will be safe with us.
EMV (chip) technology makes copying and rewriting your customer's credit card information extremely difficult. This improved payment technology has been in use in Europe for more than 10 years, and has a proven track record of security and integrity.
We offer only one pricing model that is transparent, wholesale pricing with a 3-year price guarantee.
Industry leading security and technology with end-to-end encryption, tokenization, and EMV capabilities Amex program that provides express funding, one consolidate statement, and interchange rates in line with Visa and MasterCard
Securely process payments from your desktop or tablet with our Free Cash Register POS
Funding of deposits faster than most-independent processors as long as the client batches out by

8pm

Easter
One simple, easy to read statement with all four card types
A triple layered customer service model which includes;

local representative

, US based service center that's open 365 days a year/24 hours per day/7 days a week and answers calls 6 seconds with a live customer service representative, and the client receives full access to an online portal to monitor their merchant services
Heartland is able to get your business up and running with Apple Pay immediately. Even better, no special merchant agreement is needed to accept Apple Pay. With Apple Pay, token representing the card number is stored on a Secure Element within the iPhone 6 or 6 Plus.
When the consumer is ready to pay, that token is sent by way of near field communication (NFC) to the reader for authorization. The NFC reader that is attached to the POS system or terminal will send the transaction to Heartland's preferred processor for authorization.
Get everything you need to open your online store and turn shoppers into paying customers—easily, reliably and of course, PCI-compliantly.
For businesses that want to get online fast and need a complete turnkey solution, Heartland's eCommerce for Small Business gives you everything you need to build your own eCommerce website and securely accept credit and debit card payments in less than a day. Build your online store, get the tools you need to manage it, and grow your business using our eCommerce tool kit that keeps your revenue growing and transactions secure.
Don't let your network become a monster. Your network can go from manageable to unmanageable in the blink of an eye. Heartland's managed network service provides businesses with the tools they need to make sure their network stays online, running and secure. Work smarter, not harder.
Allow us to securely link your business to the outside world by providing tools and services to increase your productivity and extract more value from your network investment. Whether you need PCI compliant payment processing, reliable network communications, public Wi-Fi access, or multi-function firewalls, we have the solution.
The Ingenico iCT220 CTL is designed for easy handling and robust daily use, offers EMV®chip-and-PIN and chip-and-signature, magnetic stripe and NFC/contactless payment options, and enables NFC couponing and wallet applications.
Effective Friday, September 11, 2015, the Ingenico iCT220 CL (Contactless) will be available for purchase (for $199), repair replacements, warranty replacements, upgrades, rentals, and swaps.
The iCT220CL adds support for EMV contactless payment, as well as popular mobile payments schemes including Apple Pay and the soon to be released Android Pay and Samsung Pay. It is a Heartland Secure certified terminal and is EMV ready.
Simple countertop machine
Stand-alone payment processing
For business owners who prefer a small, dedicated machine that will accept credit and debit cards and contactless payment methods like Apple Pay.
Ingenico® Desk/3500
An easy to use, countertop, payment processing solution for your business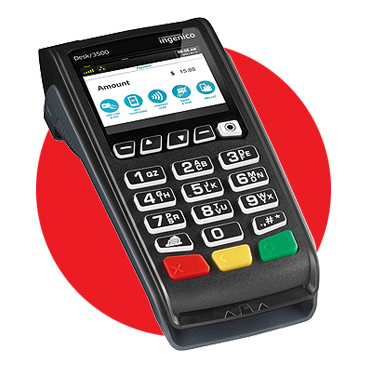 User-Friendly:
Intuitive interface
Easy to use applications menu
Accepts all payment methods including:
EMV® chip-and-PIN
magnetic stripe, and
NFC/contactless payment options
Secure:
Heartland Secure-certified terminal backed by Heartland's comprehensive Breach Warranty
PCI-PTS 4.x Certified
Latest cryptographic schemes with future-proof key length
Maximized network availability:
Read more about Heartland and EMV:
Heartland and EMV in a little more than 60 seconds (1 page pdf)
Helpful definitions:
EMV is a chip technology that features embedded microprocessors that store and protect cardholder data. "EMV" stands for "Europay®, Mastercard®, and Visa (the original developers of the technology).

NFC stands for "Near Field Communication" and allows two devices (like a phone and a payment device) to communicate when close to each other. It enables "contactless" payment.

PCI-PTS stands for "Payment Card Industry — Pin Transaction Security".
Virtual terminal payment processing
Process all credit, debit and prepaid card transactions quickly and securely from any Windows or Mac-based desktop or laptop with internet access.
Portico Virtual Terminal
Tailored for your business

Complimentary, web-based, point-of-sale payment portal
Meets HIPAA compliance requirements
Payment options using Portico Virtual Terminal:
Key-enter card info manually
Use a simple card reader (plugs in via USB port and takes debit, credit and gift cards)
Use a chip-enabled device like iPP320 (an all-in-one payment system)
View data sheet about Portico Virtual Terminal (1 page pdf)
Watch a video about Portico Virtual Terminal (Vimeo, 2:45 minutes)
Watch a video testimonial about the ease of using the Portico Virtual Terminal (YouTube, 1:43 minutes)
Our iPP 320 integrates easily with Heartland Portico via USB

The iPP 320 can process both magnetic strip and Chip-Secure Cards, while a USB simple card reader can only process magnetic strip cards.
Process payments on mobile devices
No middlemen, outside gateways or third party providers to increase costs. Transaction data is encrypted and credit card information is never stored on mobile device.
Heartland Mobile POS:
Run Your Practice from Your Phone or Tablet
Unlike other mobile payment solutions that hold funds for up to 30 days, Heartland funds its merchants as if they are processing transactions in a store, so you'll receive your funds faster.
Payment processing options for iOS and Android devices
Heartland's new Mobile Pay app and Mobile Reader is compatible with iOS and Android phones and tablets, and accepts EMV chip cards, contactless (Apple Pay and Google Pay), magstripe, cash and checks. Learn more about the Learn more about Mobile Pay app and Mobile Reader.
Heartland's Mobile Payment app can be used with either Heartland's card reader (via phone jack) or iCMP EMV Reader (via Bluetooth). This app is compatible with both iOS and Android devices. Learn more about Heartland Mobile Payment app.
Heartland ECR – a native iOS app that turns an iPad or iPad Mini into an Electronic Cash Register (ECR). Learn More about Heartland ECR app.
Heartland Mobuyle app turns an iOS or Android phone or tablet into a credit card terminal by simply downloading the Heartland Mobuyle App and connecting the Heartland card reader to your device's audio jack. Learn more about Heartland Mobuyle app.
Payment device using chiropractic EHR software
We integrate with countless proprietary chiropractic software solutions, (including Vitalogics) via the Pax S300 or other Heartland-certified secure chip-enabled devices.
Software Integration:
All-in-One Practice Management
Heartland has the best software integration specifically designed for Chiropractors
We recognize there are three important things to consider when processing client payments:
EHR (Electronic Health Records)
Auto-Pay capability
HIPAA and PCI Compliance
What we offer: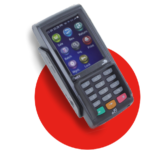 PAX S300 Integrated PINpad

The most robust offering Heartland has for Chiropractors. Able to integrate with many EHR Chiropractic Solutions, including VitaLogics.
Processes contactless, magnetic stripe, e-signature, and Chip & PIN payments
Sleek, stylish payment device
Secure and flexible platform

Various ports for extensive functionality
Vitalogics EHR Software

HIPAA/PCI Compliant seamless integration with VitaLogics software. Use on the PAX S300.
Learn more about VitaLogics EHR chiropractic software. (PDF, 1 page)
Check out what Dr. Dan Ceballos, of The Specific Chiropractic, has to say about VitaLogics, and how easy it is to set up. (YouTube video, 4 min.)
Ready to start using VitaLogics? Fill out this Vitalogics questionaire
Other EHR software
We can also integrate with Platinum Systems and countless other software products.
Bill pay driven by the clients
Bolletta Web is a payment platform, fully-hosted by Heartland, that works seamlessly on business websites, and gives clients an easy, secure, and convenient way to make payments.
Bolleta Web
Bolleta (which means "billing" in Italian) gives customers an easy way to make payments securely on business website 24/7/365.
Features and Benefits
Multiple levels of integration
Customized to look like website
Collect any type of payment
Real-time access to every transaction processed online, and can be exported to work with your accounting system
PCI Level 1 Certified
Reports customized for you, sent to your inbox each day
Learn more about Bolleta Web (1 page PDF)
Online invoicing & proposals
Invoicing driven by the business owner
Heartland's Online Invoicing enables businesses to send quotes and invoices, accept payments, and track invoices. Clients can view invoices and make payments from a client-side portal.
Heartland Online Billing & Invoicing
Features:
Manage invoices for up to 5 businesses under one Heartland account
Create recurring invoicing and auto-bill your clients
Convert quotes into invoices with one click
Customize your invoices and client portal to match your brand
Set up auto reminders to remind clients to pay invoices
Get notified when clients view invoices and make payments
Create reports and client statements
Watch video demo of Heartland Online Billing (YouTube, 4 minutes)